The Park House
The George S. Robb Centre for the Study of the Great War is located in the George Park House on the flagship Park University campus in Parkville, Missouri. The 1845, 5-room, A-Frame single-family home was once occupied by the University's co-founder, George Park, and his family. Since the 1920's, the Park House has functioned as faculty housing, office spaces, visitor's center, and museum; in the 1960's, the house was moved to the main entrance of the University (then-Park College) to make way for further development of campus land. In 2019, it was moved a second time to accommodate room for the Robert W. Plaster Free Enterprise Center, and is now situated on the far East side of campus.
Donate
Take a virtual walk-through of the George S. Robb Centre in the George Park House:
First Lieutenant Lloyd Reuben Boutwell Courtyard
The Robb Centre's Courtyard is named after First Lieutenant Lloyd Reuben Boutwell, Park College Class of 1911. The Boutwell Courtyard is home to plaques commemorating two other Park College Alumni, George S. Robb and Lewis L. Millett, Medal of Honor Recipients of World War I and Korean Conflict.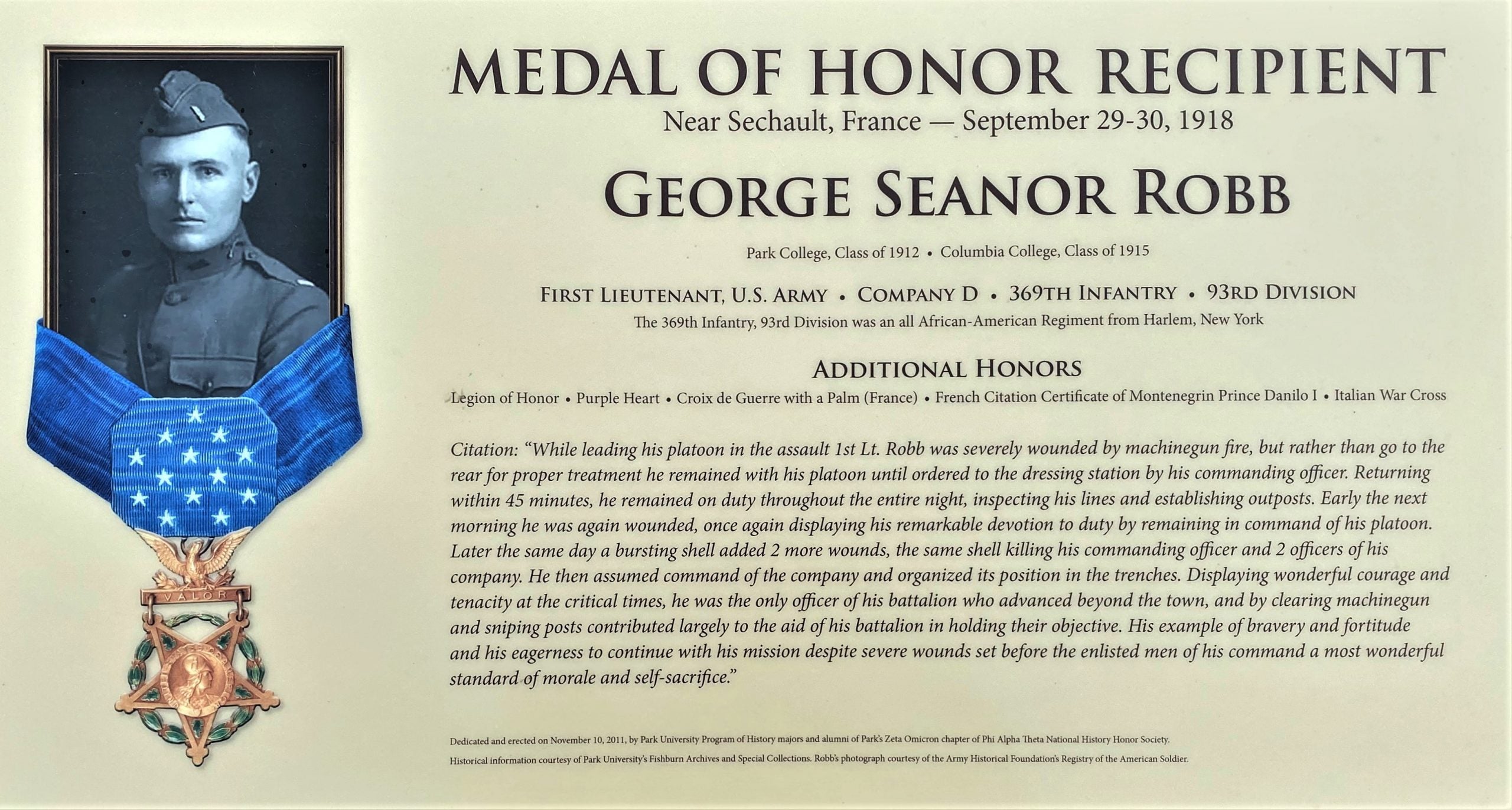 First Lieutenant George Seanor Robb in the Boutwell Courtyard
First Lieutenant Robb served during World War I.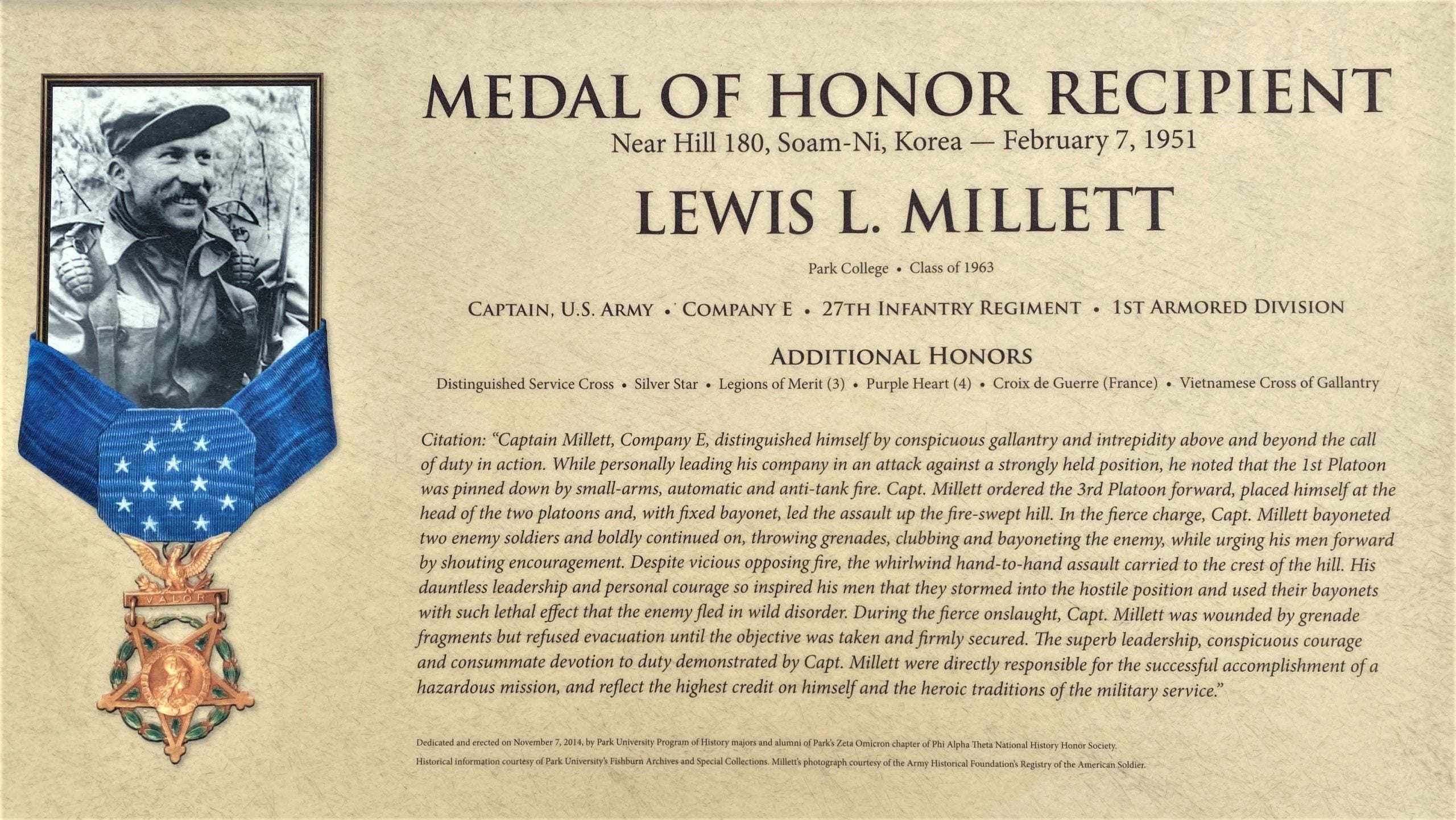 Captain Lewis Lee Millett, Sr. in the Boutwell Courtyard
Captain Millett served during World War II, the Korean Conflict, and Vietnam War.
Honorary Rooms in the George S. Robb Centre
The Howard R. Votaw Library
The Robb Centre's Library is named in honor of Howard Russell Votaw (1891-1918); Park College Class of 1912, and U.S. Marine Corps Veteran of World War I.
Howard Russell Votaw was born on August 12, 1891 to Lyman and Olive Buchanan Votaw, the youngest sibling to Lilah and Garrett Votaw. Raised in the small town of Neoga, Illinois, his parents operated a profitable furniture business and were active in local affairs, including the Neoga Presbyterian Church. After graduating in a class of 9 from Neoga High School in 1908, Howard attended Park College in Parkville, Missouri, graduating in 1912. After leaving Park College, Howard lived in Chicago, Illinois with his aunt, working at one time as a travelling salesman, later Darling & Co., U.S. Stockyards in Chicago. Whilst in Chicago between 1912 and 1917, Howard met and became engaged to Ms. Florence Wood, daughter of Horace and Frances Parish, an affluent family involved in the Chicago & Alton Railroad Company.
Howard enlisted in the United States Marine Corps on July 28, 1917 as a Private with the 120th Company, 1st Replacement Battalion, stationed at the U.S. Marine Corps Barracks in Quantico, Virginia. By Spring of 1918, he was a Corporal in 140th Company, 3rd Replacement Battalion; finally, Fall of 1918 with 97th Company, 6th Regiment, AEF in France. Corporal Votaw fell in the Argonne Forest, Argonne, France on October 4, 1918. Corporal Votaw's body was returned to the United States and buried in Neoga Memorial Cemetery, Neoga, Illinois in 1921.
The Neoga, Illinois American Legion Post 458 is named for Cpl Votaw and Cpl Ralph Swank, both killed in action in France.
The Emilio V. Acosta Archives
The Robb Centre's Archive is named in honor of Emilio Vincente Acosta (1895-1989); Park College Class of 1922, and U.S. Army Veteran of World War I and World War II.
Emilio Vincente Acosta was born to Juan Monserratte (1873-1926) and Maria del Carmen Rosario (1873-1905) in Cago Rojo, Puerto Rico, the eldest of six children. After completing his early education, Acosta was accepted to Park College in 1917, arriving in New York, NY, July 2 of the same year, to begin his first term in the fall. Seeking further education "to have a comfortable living", Acosta quickly became immersed into Park life as a member of the Orion Literary Club, Park Orchestra, and Park Lawrence Band.
Acosta enlisted in the U. S. Army on 25 April 1918, serving with Company D, 356th Infantry, 89th Division, as a bugler, later Private First Class. PFC Acosta and his company left Brest, France on 16 May, 1919 aboard the U.S. Army Transport Ship Huntington, arriving in Hoboken, N.J. on 28 May 28 1919. On 10 June 1919, Acosta was honorably discharged from service, soon returning to Park to complete his degree. Majoring in Romance Languages, Acosta graduated in 1922 after student teaching for a year (1921-1922), and serving as an instructor for the Chanute Public School system (Chanute, Ks.) between 1923-1924. Acosta moved to Grand Forks, N.D., where he met and married Saima Johnson (1907-2000), becoming an instructor of Spanish and French at the University of North Dakota. The couple had three children together; Kenneth Earl (1931-2007), Carmen Jean (1932-), and James Vincent (1938-2010).
As an Army Reservist, Acosta served as an instructor in the 1930s at various U.S. Army installations; with the outbreak of World War II, Emilio enlisted into active service again on 15 July 1941. Then Captain Acosta was released from service on 10 February 1947 and placed on the Army's retired list on 30 April 1955. Acosta remained a professor at the University of North Dakota until his retirement in the 1960s. Acosta died of natural causes on 8 September 1989 in Grand Forks, N.D. at 94 years old. He is buried in Enterprise Finnish Cemetery, Nelson County, N.D.
The Paul McGeehan Staff Office
The Robb Centre Staff Office is named in honor of Paul McGeehan (1872-1954), Park College Student and U.S. Army Veteran of the Spanish American War and World War I.
Paul McGeehan was born to Robert Patterson (1846-1927) and Lois Applegate (1850-1917) on 13 June 1872, in Liberty, Trumbull County, Oh., the first of four children. The McGeehan family lived in Cleveland, Oh., until moving to Parkville, Mo. sometime in the 1880s. McGeehan graduated from Central High School in 1890, briefly attended Park College and the Colorado School of Mines in Golden, Co.
McGeehan enlisted in the U.S. Army on 4 May 1898, serving in the Spanish American War with Company D, Missouri 5th Volunteer Infantry, which was mustered into federal service with the Second Division, Third Army Corps. The regiment trained at Camp Thomas, Ga. from late-May to early August 1898. Due to the poor camp conditions, the regiment was transferred to the Third Division, First Army Corps, based in Lexington, Ky. The unit returned to Jefferson Barracks, St. Louis, Mo., by early September, where it was mustered out a month later in Kansas City, Mo. McGeehan was honorably discharged as a 2nd Lieutenant.
After his return to Parkville, McGeehan married Alice Eldrige Winchell (1872-1926) on 18 July 1899, with her, having four children; Charles Winchell, Robert Paul, Ruth Lois, and Madeline. McGeehan then attended and graduated from the University of Kansas (1909), afterwards returning to Kansas City, Mo., where he was elected alderman for the Fourth Ward (Jackson County, Charlotte Street). He served for a short time before resigning to become a civil engineer with the Interstate Commerce Commission.
McGeehan, upon American entry into World War I, reenlisted in the U.S. Army, serving as Captain of Co. I, 12th Engineers, Light Railway Regiment. The 12th Engineers recruited men from St. Louis and Kansas City, Mo., training at Camp Gaillard in St. Louis until mid-August when they were shipped overseas. The 12th Engineers were stationed in the Seine-Maritime department of France and were attached to the British Fifth Army. By March 1918, they were assisting with maintenance of the British military railway system (and were involved in the Somme Offensive). By July, the 12th Engineers were transferred back to the American First Army, where they were active in the St. Mihiel and Meuse Argonne offensives. The 12th Engineers remained in support of the railway systems into February of 1919, from which they traveled to France in March, and sailed to the U.S. in April. Captain McGeehan arrived in Brooklyn, NY., aboard the U.S. Army Transport Ship Cape May on 27 April 1919, and was honorably discharged in May.
McGeehan, upon his return home, continued his work as a Kansas City sewage engineer and was promoted to City Engineer in 1924. In 1926, Mrs. McGeehan died of heart failure in their home in Kansas City. McGeehan, two year later, married Sarah Olivia Faris (1881-1968), his former sister-in-law (wife of Alice Eldridge Winchell's brother, Harold, 1879-1923), in Clinton, Mo. McGeehan began working for the Brinkerhoff-Faris Trust and Savings Bank, becoming the Vice President into the late 1920s. By 1940, McGeehan and his wife had divorced; Mrs. McGeehan moved to Los Angeles, Ca., and Mr. McGeehan maintained a farm in Clinton, Mo. McGeehan retained the rank of Colonel (Ret) with the U.S. Army Engineer Corps into the 1950s. In 1953, McGeehan began suffering from debilitating blindness, prompting him to go into retirement. A year later, he entered the Kansas City Veterans' Hospital. McGeehan died on 19 August 1954 of heart failure and is buried at Forest Hill Cemetery, Kansas City, Mo.