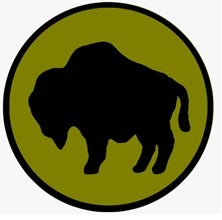 The American 92nd Infantry Division, known as the Buffalo Soldiers, was formed in 1866 at Fort Leavenworth, Kansas. The all-black 10th Cavalry Regiment had earned their names from the Native American tribes they encountered during the Indian Wars, but the nickname soon spread to all African-American regiments including the 10th, 24th, 25th, and (Second) 38th Infantry Regiments.
On 29 November 1917, the 92nd Division was formed from African-American men who were willing to serve for a country that discounted them at every turn. The "all-negro" outfit was commanded by Major General Charles C. Ballou, whom oversaw the African-American officer cadets at Fort Des Moines Officers Training Camp in Des Moines, Iowa. However, despite African-American officers being trained at Fort Des Moines under Ballou, United States Army policy determined that no African-American could rise above the rank of Captain. Subsequently, the majority of the 92nd Divisions command laid in the hands of Caucasian officers. In May 1918, the 92nd was brought to full strength and was concentrated at Camp Upton, New York prior to embarking to France.
Organization of the 92nd Division: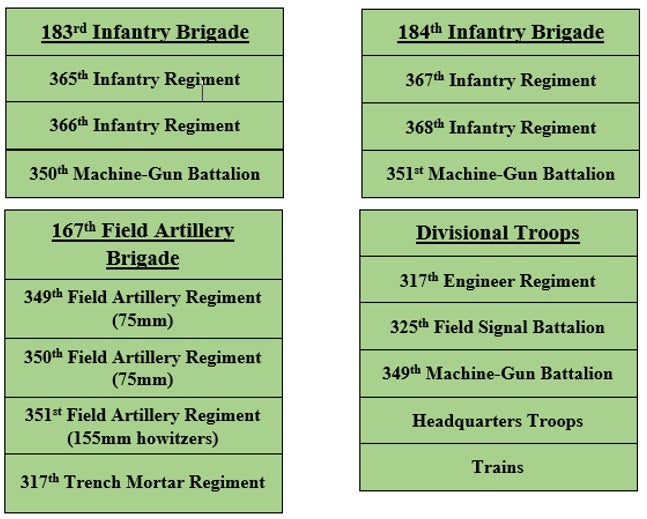 The 183rd and 184th Infantry Brigades participated in battles of the Saint Die Sector (Vosges, France) from 29 August to 20 September 1918, and the Marbache Sector (Lorraine, France) from 9 October to 11 November 1918.
Note: The only exclusion to this was the 368th Infantry Regiment who had also participated in the Meuse-Argonne Offensive from 26 September to 4 October 1918 as part of a Franco-American liaison group known as Groupement Durand (or the lesser known designation of Groupement Rive Droite).
The American 92nd "Buffalo Soldiers" Division